David Pieris invests Rs. 100mn in digital solutions joint venture – Business News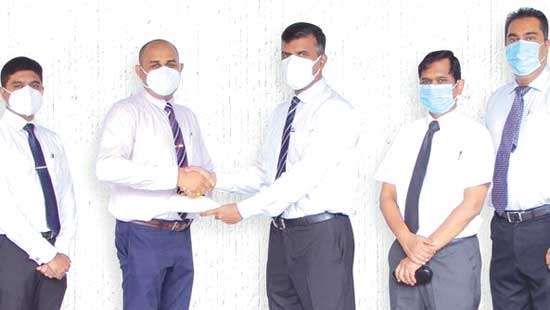 ---
Rohana Dissanayake – Group Chairman and CEO, David Pieris Group of Companies exchanging agreement with Thilina Kumarapathirana – Director / COO, Avonet Technologies (Pvt.) Ltd. Dhanika de Silva -Director, David Pieris Motor Company (Pvt. Ltd, Niroshan Serasinghe – Chief Officer – Digital Business Initiatives, David Pieris Holdings (Pvt.) Ltd, Jayaraj Sayanthan – Executive Director, DP Infotech (Pvt) Ltd, Mavali Weerasinghe – Director, Assetline Corporate Services (Pvt) Ltd, Anurudda Kariyawasam – Independent Director Candidate for JV Company, Sachith Fernandopulle – Director / CTO, Shanta Rajapaksha Yapa – Chief Commercial Officer – Avonet Technologies (Pvt.) Ltd were present on the occasion
David Pieris Holdings and Avonet Technologies have announced the launch of a new joint venture that will power Affiniti FinTech Solutions and accelerate its global expansion.
Affiniti is a suite of FinTech solutions that digitally transforms end-to-end delinquency management and customer relationship management processes.
Currently, Affiniti enables the automation of collection and collections from BFSI, Telco, utilities and public sector institutions, minimizing the manual intervention of operational staff, while maximizing the efficiency of the management of delinquencies.
Affiniti's unique offerings are the management of customer difficulties triggered by early warning signals for customers with financial vulnerabilities, the automated detection of slippages and the triggering of recovery actions with optimization of collection, predictions based on machine learning and cognitive conversational bot interactions with delinquent customers to track promises and payback payment plans.
Affiniti is currently used by many large banks, non-bank financial institutions and telecommunications establishments. Among them are Sampath Bank PLC, PABC Bank, HNB Finance PLC, HDFC Bank, CDB, LB Finance, Vallibel Finance and Dialog Axiata.
"With this joint venture, our intention is to make Affiniti the world's leading digital recovery platform by 2030, focusing first on South Asia, then Asia-Pac, the Middle East and African regions ", explained Rohana Dissanayake, president and CEO of the group. of the David Pieris Group.
The partnership has a meticulously planned product and technology roadmap to achieve this bold goal which includes: and effective customer engagement and branding matrices for informed decision making.
Thilina Kumarapathirana, Director / CEO of Avonet Technologies, said: "This collaboration is a significant achievement in our quest to make Affiniti a sought-after brand for innovative software solutions internationally. The strengths of David Peiris Holdings will certainly allow us to focus on the continuous improvement of our solutions and to add even more value to our clients.