Japanese brewery Kirin ends joint venture with military company MEHPCL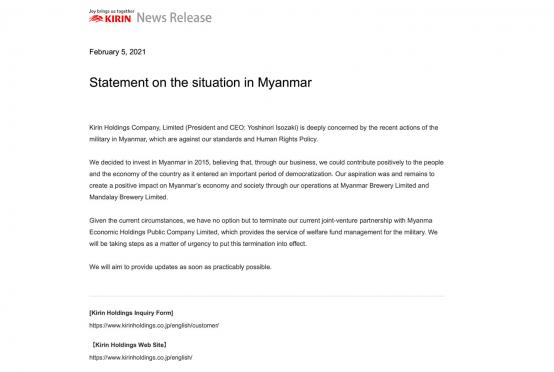 Japanese brewing company Kirin Holdings Company Limited (KHCL) issued a statement on February 5 saying it would end its current joint venture partnership with military company Myanma Economic Holdings Public Company Ltd (MEHPCL) by doing business with Myanmar Brewery. Ltd and Mandalay Brewery Ltd.
KHCL released the statement in response to the situation in Myanmar. It is the first of the foreign companies working in Myanmar to partner with military-run companies.
KHCL Chairman and CEO Yoshinori Isozaki said in the statement that he was deeply concerned about recent actions by the military in Myanmar, which go against their rights standards and policies. humans.
The Japanese company decided to invest in Myanmar in 2015, believing that its business could positively contribute to the people and economy of Myanmar as it enters an important period of democratization. Its aspiration was and remains to create a positive impact on Myanmar's economy and society through its operations at Myanmar Brewery Ltd and Mandalay Brewery Ltd, the statement said.
Given the current circumstances, they do not have the option of terminating their current joint venture partnership with MEHL, which provides the service of managing welfare funds to the military. The company will take emergency measures to implement this termination, the statement added.
KHCL bought 55% of the shares of Myanmar Brewery Ltd for US $ 560 million in 2015. During its investment, the Japanese company was ordered by activists and human rights organizations to stop its joint venture activity.