Mumbai: How a toilet finder app helps women locate women's toilets | Bombay News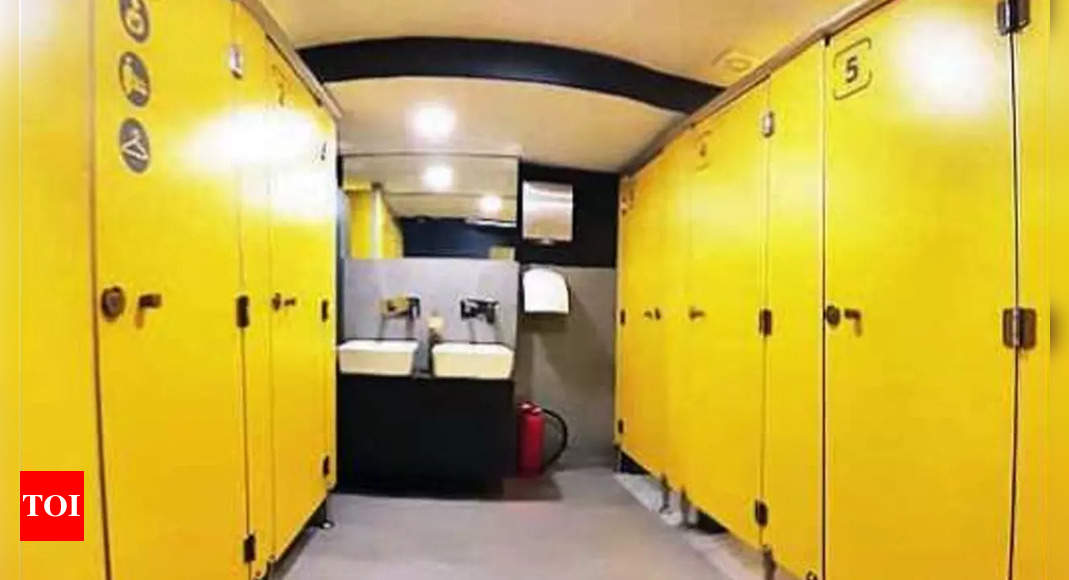 The ruin of many pleasant outings – nature is calling but there is nowhere to go. While the men have it relatively easy, disappearing behind a trash can or a tree or slipping between cars and through alleys, the city – despite being overrun with tourists, workers, residents and students – n has never been bladder friendly for women.
That's changing with four entrepreneurs and the Toilet Board Coalition, a global non-profit organization working with businesses, government agencies and NGOs to grow the sanitation economy, helping city women to respond to the call of nature in public toilets suitable for women. which represent hygiene, safety and dignity.
This tech-enabled social enterprise called Woloo – short for women's toilets – has partnered with 1,200 toilets across Mumbai to provide women with what they call "hygienic dignity". Through an
app
, users can find clean and safe location-based restrooms – in restaurants, cafes and lounges – within 2 kilometers of their location and use the facility, which would otherwise typically be reserved for customers.
"Whenever there is a conversation about access to sanitation or public toilets, we always talk about slums and villages, but female urban workers face the same issues. Our team visited 300 public toilets in Mumbai, of which only 20% were designed for women and not even a small fraction usable. In Mumbai, four million women travel by train every day. Many are on the road for hours and have no choice but to hold back their urge. Many avoid drinking water and those who find toilets end up contracting infections," said Manish Kelshikar, co-founder and chief commercial officer of Woloo who quit his job in the retail sector to solve what had started as a personal trigger. "I have a daughter who is now 20, but three years ago when she started going to university she faced a day of total agony because she was out and n I didn't have a place to change her towel during her period. It hit me hard," says Kelshikar, who decided to design Woloo as "the AirBnB of toilets."
At a time when personal hygiene is more critical than ever, Kelshikar says restaurants and cafes have also found that providing clean public restrooms pays them big dividends through increased traffic. "Clean restrooms mean happier customers who will come back," he says, adding that "a restroom used to be a non-commercial place that now suddenly attracts additional customers. Initially, they were hesitant to allow non-customers into their restrooms, but in a pandemic, that kind of certification helps build the kind of trust restaurants want to build.
The cornerstone of these restrooms is a series of measures to rank hygiene standards developed in association with the Toilet Board Coalition's star rating system to ensure that these public restrooms meet parameters of safety, accessibility, clean and reasonably equipped. "Hosts must go through a screening process or upgrade their existing toilets according to our hygiene checklist before being certified, geotagged and onboarded to the Woloo mobile app," says Kelshikar.
In addition to adequate lighting, cross-ventilation, non-slip flooring, clean and dry cabins, training of cleaning staff, waste management, and provision of basics like soap, sanitizer, bins, mirrors and tissues, it also uses smart sanitation technology – "remote odor detectors" that detect bad odors and alert maintenance personnel.
"Each time the stench level crosses the threshold, there is a trigger and if a toilet crosses three triggers, it is removed from the app. Also, just like Michelin star attendants, we have three hygiene officers Woloo who discreetly visit guest washrooms twice a month and give a rating, which is how we stay vigilant," adds Kelshikar.
The startup is also putting 'rest' back in women's restrooms by setting up wet rooms – a lounge-like space in metro and railway stations – equipped with CCTV cameras, toilets certified by the Board of toilets, a dispenser of sanitary napkins, a baby feeding room, a changing station, a café for a breather and a shop selling feminine hygiene products.
"The powder room is meant to be an equalizer where every woman has access to clean and safe sanitary facilities," Kelshikar says as he prepares to launch his flagship "Powder Room" product at Ghatkopar metro station on the 26th. January, after Mumbai got its first Washroom in Thane in 2019.