Venture capital group Team8 appoints two new partners and CTO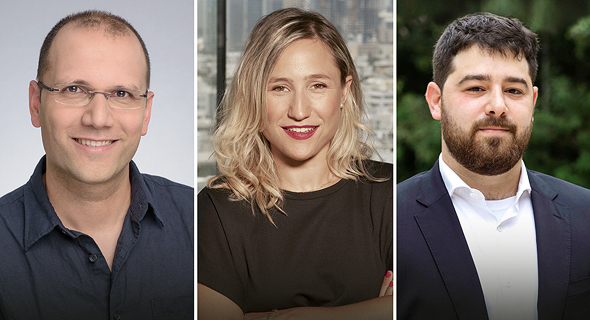 Appointment
Former Check Point senior executive Roy Heldshtein has been appointed partner and COO, Galia Beer-Gabel has been promoted to partner and Gal Hochberg has been hired as technical director.
Meir Orbach 12:1212.20.21
Global venture capital group Team8 announced the appointment of former Check Point Vice President of Finance Roy Heldshtein as Partner and COO, Promotion to Vice President of Business Development and Operations at Team8 Fintech, Galia Beer-Gabel, as a partner, and the addition of ClearX co-founder, Gal Hochberg, as the group's CTO.

Gal Hochberg (from right), Galia Beer-Gabel and Roy Heldshtein. Photo: Ron Kedmi

Heldshtein will oversee the day-to-day administrative and operational functions of the company. Heldshtein brings two decades of business and technology experience and joins Team8 after serving as Vice President of Finance at Check Point for the past 12 years.

For the past two years, Galia Beer-Gabel has served as Vice President of Business Development and Operations for Team8. In this role, she was instrumental in the creation of Team8 Fintech and played an important role in setting up the ongoing management of the group's fintech companies. Galia will now assume the role of partner within the group. Beer-Gabel previously worked for six years at PayPal as a Business Development and Sales Manager, managing the company's strategic growth in Sub-Saharan Africa, Israel and Eastern Europe.

Gal Hochberg returns to Team8 after serving as a founding partner and CEO of ClearX, an enterprise blockchain company that is engaged with several of the world's largest communications companies such as Vodafone, Telefonica and Deutsche Telekom.