Why Construction Suppliers Like Flashtract Are Attracting Capital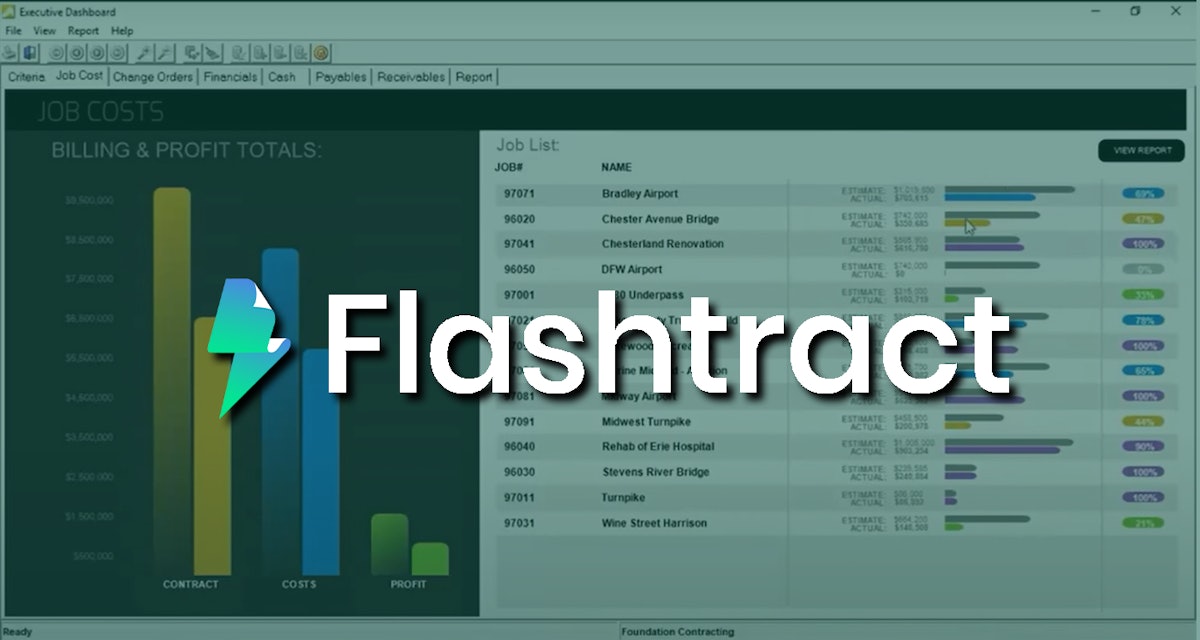 Those who follow construction tech probably noticed yesterday's announcement of a $15 million Series A funding round for the Atlanta-based construction payment app provider. Flashtract.
Flashtract's platform creates a contiguous digital workflow for billing and payment, automated lien waiver collection, digital signatures, diversity insurance tracking, and inclusion tracking. The Series A funding round, led by Addition and Shard Capital, will fuel the further development of these capabilities and streamlined communication channels between general contractors and subcontractors.
Requesting payment is a difficult business process for generals and contractors, and a commercially viable solution that automates and eliminates the non-value-added work needed to get paid is understandably an attractive investment for venture capital funds.
More than just software
But Flashtract isn't the only company in this space. Construction enterprise resource planning (ERP) applications are also looking to streamline payment requests, and there are other point solutions in the space, including Level set and GCPay. Of these two competitors, Levelset was perhaps the more progressive in its approach to the market, integrating into its product a multi-vendor marketplace (MVM) for lawyers who can help with collection efforts and lenders who can provide debt financing. gap if a contractor's client is slow. to pay. Levelset was in September 2021 acquired by the construction ERP leader Procore.
But Levelset is not alone in integrating an e-commerce finance platform into its product, following the Levelset-Procore deal. Flashtract achieved this milestone in November 2021, making it more unique as a point solution once Levelset became part of Procore and ostensibly ripe for absorption into the enterprise suite. General contractors using the company's Flashtract Flash Prime application and subcontractors using the Flash Specialty product can protect their cash flow despite any late payments, even if the rest of the Flashtract toolset mitigates risks and reduces the level of effort to get payment requests accepted by the owner. . The loan option is a white label offering from Lendflow, which had a similar deal with Levelset and with Procore even before the Levelset acquisition.
The availability of funding directly in the context where it is needed, so that lenders have full visibility into the projects and business arrangements they are supporting, will make Flashtract attractive to entrepreneurs who want and need a streamlined and predictable to get paid but who are disinterested. in an enterprise-wide application like Procore.
SaaS pricing models are evolving
As ForConstructionPros.com debriefs growing construction software companies, we see a number of them already or seeking venture capital funding to incorporate financial and other services offerings into their product. It can be a market differentiator but also, insofar as they can monetize commerce on their platforms, generate revenue that is not directly tied to a level of effort to deliver the software, meaning it will directly to net income.
This is just one of the ways software-as-a-service (SaaS) pricing is changing. A significant percentage of businesses, including those serving the small and medium-sized business (SMB) space, take advantage of various forms of value-based pricing. Under this pricing model, the software is not sold per named or concurrent user, but per volume of transactions sent over the system, either on a metered basis or by negotiation based on anticipated business benefits.
It also has the effect of decoupling revenue and ultimately leveraging the expense of developing, shipping and delivering enterprise software, again making a company like Flashtract attractive to venture capital investors.
"The proven value of our product is directly tied to its ability to quickly receive, review and approve payment requests," Flashtract co-founder and chief customer success officer Ben Conry said in an email interview. email after announcement. "We also frequently release features at all customer levels, as these features actively help to optimize processes and reduce payment application and contractor payment approval cycle time. On the Based on this value, we charge a SaaS fee for ongoing product improvement as well as a fee based on approved annual paid applications.
Reliable app for payment functionality
As a point solution competing at least some of the time with enterprise suites like Procore, Flashtract needs to improve the payment request process, and according to Conry they are well positioned here, while minimizing the level of effort required to send data from their best software into a system of record like an accounting solution or an ERP.
"While many existing players have developed powerful project management or accounting solutions, the invoicing and payment process is really the bridge between the two," Conry said. "Flashtract allows users to have complete control over this process by connecting valuable accounting data and project management information, ensuring that each party is paid correctly and on time. Understanding the value of building that bridge is why Flashtract has focused on building partnerships with leading accounting and project management solutions.
While the solution may not meet the Earned Value Management (EVM) requirements of an Engineering Construction Contractor (EPC), the Flashtract functionality fills many gaps that can lead to loss of value in traditional applications. for payment processes.
"The percent complete, work completed that time period, or materials stored are entered by end users, which are then used to generate all payment requests, lien waivers, and other compliance documentation before being released. sent through a configurable approval workflow," Conry said. "The Flashtract application then validates these figures against the agreed planned value and issues change orders to ensure there is no risk of overcharging. In addition, once the values ​​are given for a given period, Flashtract performs all the calculations on behalf of the subcontractor to calculate everything from the holdback to the payment due, in order to avoid unintentional errors, all in real time. In the event of a percent complete dispute, general contractors can flag specific line items they want to review, which subcontractors can then adjust and resubmit with just a few clicks.
Work and play well with others
Data not only flows from Flashtract to ERP or business partners to secure payment, contract details are also imported from the contract itself to define liquidity events on the project, eliminating manual entry.
"For the majority of our customers, we pull data directly from their ERP or project management software through an existing integration," Conry said. "In other cases where tight control is important to the process, we have easy-to-use templates for batch uploads as well as a customer success and onboarding team who are available to provide ad-hoc training, help answer any questions and help with data migrations.
Connections between Flashtract and other players, including Procore, will become deeper and more robust, a process that will be facilitated by the application programming interfaces (APIs) of their integration partners.
"We are currently integrating Procore's APIs and are available in their marketplace and will be implementing Procore's web hooks to provide our customers with more automation," Conry said. We have also partnered with Ryvit, an industry leader in Integration Platform as a Service (iPaaS) technology, to provide an automated onboarding experience for ERPs such as View from the point of view and Sage 300 CRE."
At the end of the line
Flashtract's features and pricing model can increase their total revenue and profit potential, which is encouraging for venture capitalists. But this robust revenue model should give them resilience and stability as the application market for payment software, construction accounting software, and construction ERP matures and consolidates. This in turn should be encouraging for the company's customers and prospects.